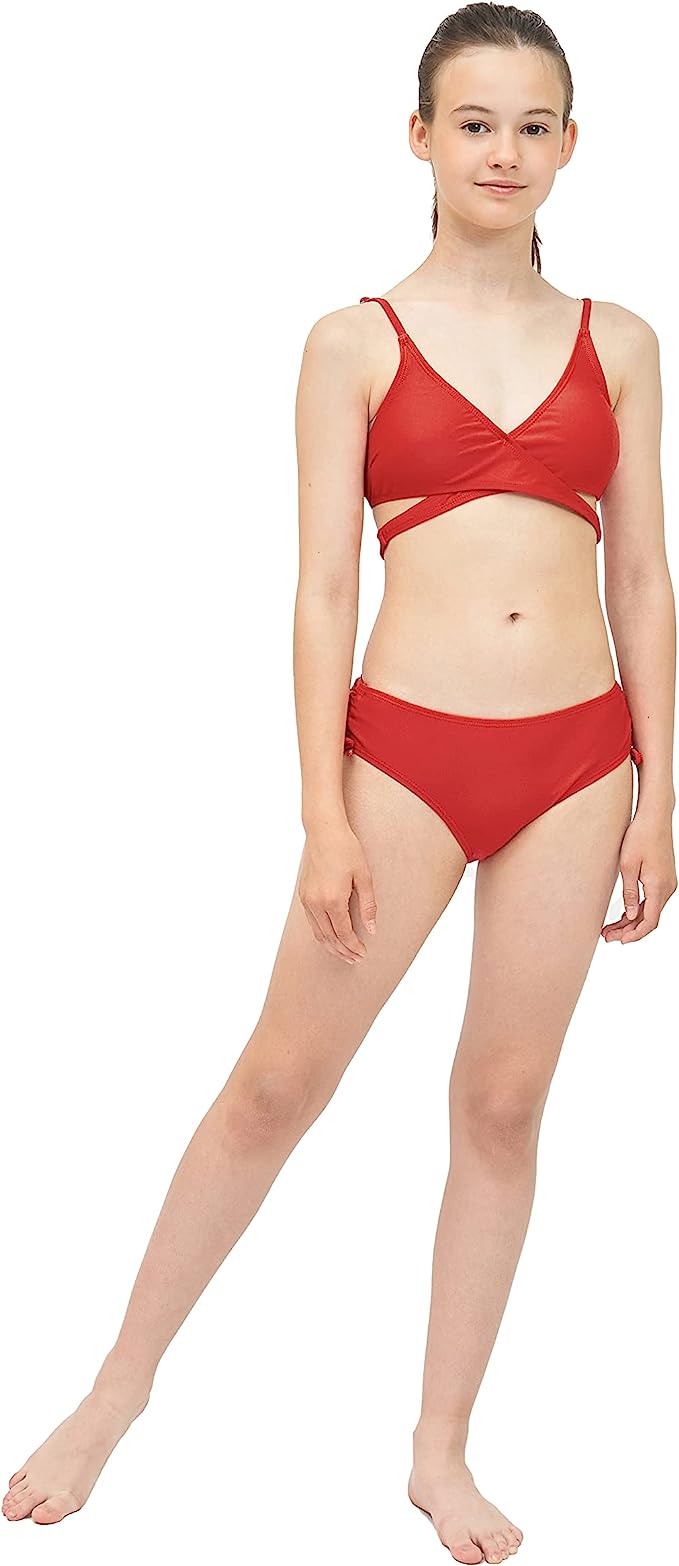 As summer approaches, many teens are excited to spend their days lounging by the pool or frolicking on the beach. And what better way to embrace the warm weather than with stylish swimwear? Whether your teen prefers a classic one-piece or a trendy bikini, there are plenty of options available. However, finding the perfect swimwear for your teen can be a daunting task. Here are four tips to help you choose the perfect swimwear for your teen.
Consider Their Body Type
One of the most important factors to consider when choosing swimwear for your teen is their body type. Different swimsuits can flatter different body types, and choosing the right style can help your teen feel confident and comfortable.
If your teen has a straight or athletic body type, consider a swimsuit with a high-cut leg or a bikini with a ruched bottom. These styles can help create the illusion of curves and add some femininity to their look.
If your teen is curvier, opt for a one-piece swimsuit or a bikini with a high-waisted bottom. These styles can help accentuate their curves and provide more coverage in areas they may feel self-conscious about.
It's important to note that every teen's body is unique, and what works for one may not work for another. Encourage your teen to try on different styles and find what makes them feel the most confident and comfortable.
Choose a Flattering Color and Print
In addition to considering your teen's body type, you should also choose swimwear in a color and print that flatters their complexion. Choosing the right color can make all the difference in how your teen looks and feels in their swimsuit.
For example, if your teen has a fair complexion, pastel shades like baby blue, lavender, and pink can look great. If your teen has a warmer skin tone, earthy shades like olive green, rust, and mustard can be a good choice.
In terms of prints, florals and stripes are classic options that can look great on anyone. Other trendy options include animal prints, tie-dye, and geometric patterns.
It's important to note that your teen should ultimately choose a color and print they love and feel confident in. Encourage them to try on different options and have fun experimenting with different styles and patterns.
Prioritize Comfort and Functionality
When it comes to swimwear, comfort and functionality should be a top priority. Your teen should be able to move freely and comfortably in their swimsuit without worrying about any wardrobe malfunctions.
When choosing swimwear, consider the activities your teen will be doing. If they plan to play sports or be more active, a one-piece swimsuit or a sporty bikini with a secure top and bottom may be a better option.
For teens who plan to spend more time lounging by the pool or beach, a more fashionable bikini with a lower-cut bottom may be a good choice. Just be sure to choose a swimsuit that provides enough coverage and support for your teen's body type.
It's also important to choose swimwear made from high-quality, durable materials that can withstand exposure to chlorine, saltwater, and sunshine. This can help ensure that the swimsuit lasts for multiple summers and is a good investment.
Add Accessories to Complete the Look
Lastly, adding accessories can be a great way to complete the look and help your teen feel even more confident and stylish in their swimwear. Some popular options include sunglasses, hats, beach bags, and cover-ups.
Sunglasses are a must-have accessory that can protect your teen's eyes from harmful UV rays while also adding a stylish touch to their look. Hats are another popular accessory that can provide additional sun protection while also being a cute and trendy addition to their outfit.
A beach bag can be a practical accessory that can hold sunscreen, towels, and other beach essentials. Cover-ups are another popular option that can provide additional coverage and protection from the sun while also being a fashionable addition to your teen's beach or poolside outfit.
In conclusion, choosing the perfect swimwear for your teen can be a fun and exciting experience. By considering factors such as body type, color and print, comfort and functionality, and accessories, you can help your teen find a swimsuit that makes them feel confident and stylish. With these tips in mind, your teen can enjoy a summer filled with sun, sand, and style.